How Do You Craft the Perfect Domain Name for Your Business' Website?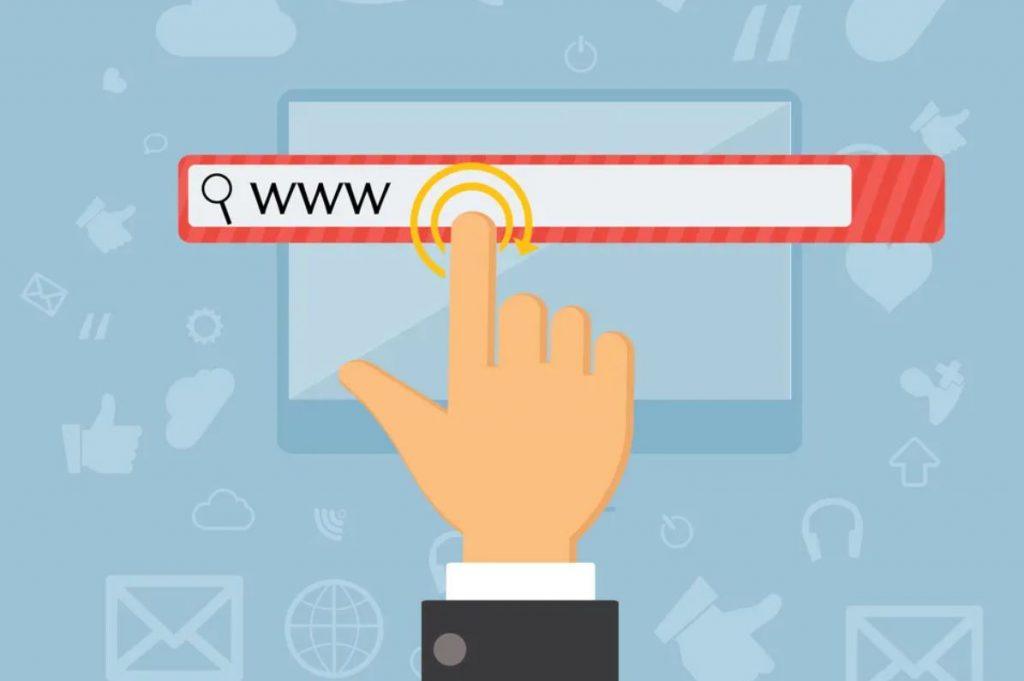 Photo Credit by Ink for All
How Do You Craft the Perfect Domain Name for Your Business' Website? In today's world, having an online presence is crucial for businesses to reach out to people. MarTech advisor revealed that 77% of brands believe that interacting with customers online boosts brand awareness and credibility. Consumers seem to echo that sentiment as well. 3D Digital reported about the opinion of millenials on the matter. More than half of them think that making online content forges better brand loyalty. Craft the Perfect Domain
So, the insight here is clear. Having a digital aspect to your business is necessary to keep your brand afloat. Creating a website is a good way to do so. Tribute Media notes that a website can be a powerful branding tool depending on how its content is made. Craft the Perfect Domain
Your site's domain is going to be particularly critical to how visitors view your website and, in extension, your business. A domain is one of the first things that someone sees when they enter your webpage. Thus, a lot of thought should go into creating a domain so it can in turn serve your brand well. Craft the Perfect Domain
How is a good domain important?

Craft the Perfect Domain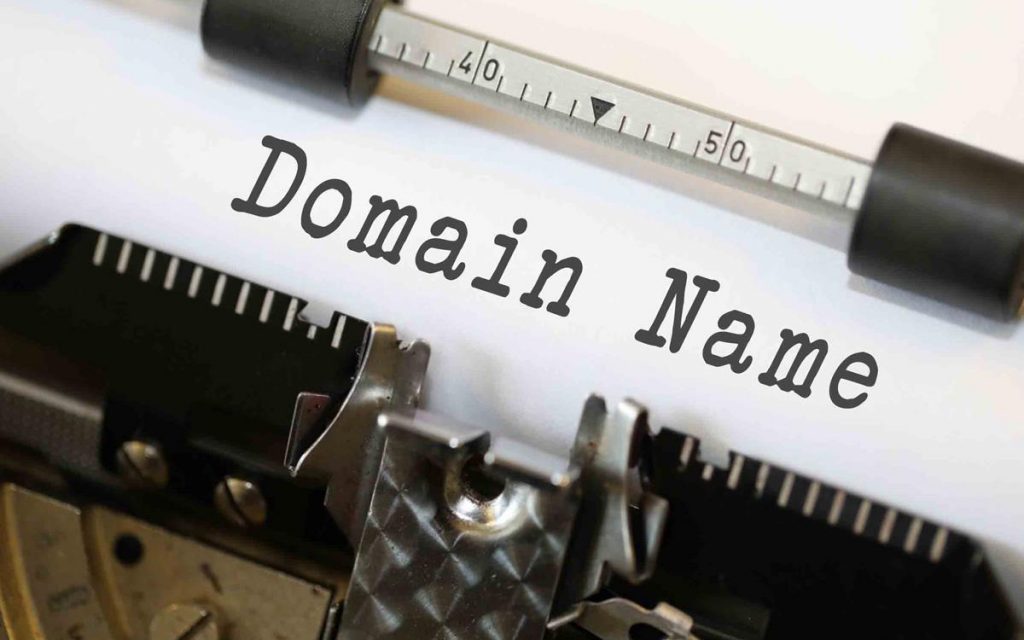 Photo Credit by The Blue Diamond Gallery
Before we can get into brainstorming potential domains, it's best to understand how a domain works in the first place.
What's a domain?

Craft the Perfect Domain
ICANN provides a good explanation for what domains are. They went into detail about the relation of domains to another equally important object, IP addresses. An IP address is a series of numbers that computers use to direct users towards a specific webpage. In this case, this would be your website. Craft the Perfect Domain
The problem though is that humans can't really commit a series of numbers to memory. That's where domains come in. They're a set of words that essentially serve as the title for a website in place of the IP address. Simply typing in a domain name on a web browser will be enough to bring people into your site.
Also, most domains come in two parts. These are the Second Level Domain (SLD) and the Top Level Domain (TLD). Let's take the website "joshdiaries.com" for example. Its SLD would be "joshdiaries", the main calling card of the website and the name that people associate with it. Meanwhile, ".com" is its TLD, which serves to complement the SLD and point out its status as a website.
As mentioned before, domains are one of the things visitors initially come across when arriving at your site. That's not only because it's the actual word or phrase you have to search so you can access the website. It also has to do with the domain's placement. Job-Hunt states that it's located at the top of the site, in the browser bar. It's constantly present no matter which different page of the website you're on. 
Starting to see why it's so important yet?
How do domains work with branding?

Craft the Perfect Domain
Domains, as previously implied, serve as the face of your business.  Marketing91 stresses that fact in one of their articles. They explained that domains represent your brand, no matter if the brand is for your products or the company itself. It's going to be what people think of when they look up your products or services online.
According to Daily Blog Tips, domains can also show people what to expect when they open your website. More established brands paint a clear picture of what content their site has. When you think "Mcdonalds.com", of course burgers and fries are what would immediately cross your mind. Meanwhile, newer, smaller businesses will struggle to find their footing in this regard. Thankfully, the right SLD and TLD could circumvent that issue fairly easily, but we'll delve into that later.
Overall, it's essential to create a domain based on how you want to be perceived. What that entails remains for you to decide, but remember that the goal of your website should be growing your brand's identity. 
Besides that though, there are also some do's and don'ts to abide by when formulating your domain name. These will ensure that your domain compliments your brand and endears it to anyone who learns about it.
What guidelines should you follow when coming up with a domain name?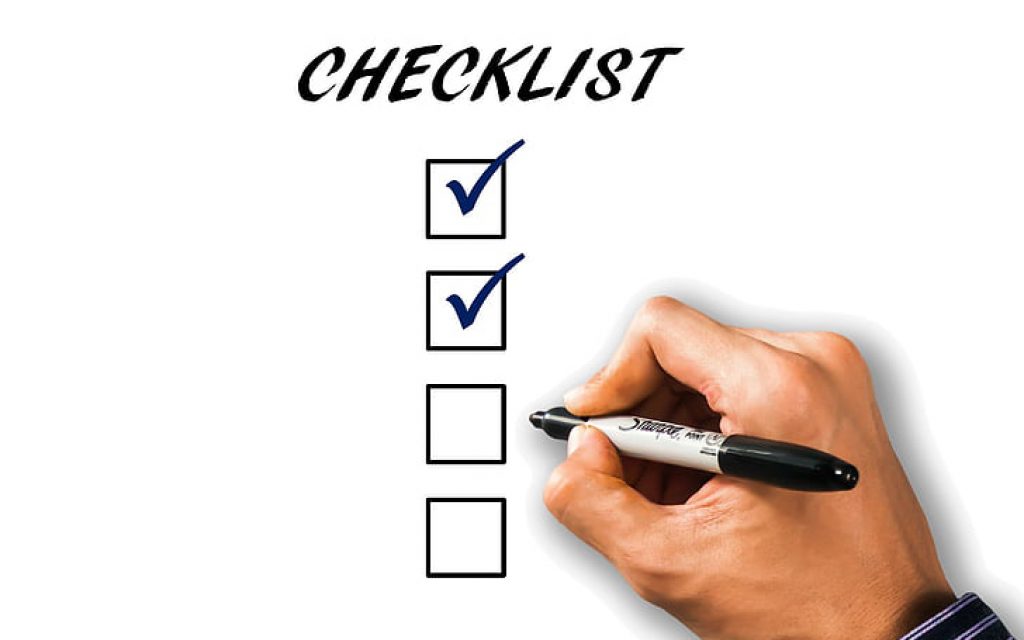 Photo Credit by PickPic
Make it easy to read
Forbes compiled their own list of tricks when it comes to constructing the best brandable domain name. One of their first rules is to settle for names that are pronounceable. 
People tend to search for domains exactly how they would read it out loud. The reasoning behind this is the concept of processing fluency, the ease with which our brains can process new information. Names that are easy to pronounce tend to stick out in our heads. Applying that to your domain will make your brand distinguished from others with more convoluted names.
Keep it brief
This second tip is closely related to the previous one – keep your domain name short. This adds to your domain's processing fluency. It gives your customers an easier time finding you online and remembering your brand name. 
However, some go overboard by trying to squeeze their name into acronyms for the sake of brevity. You can only do that if your brand is already commonly known to the public as an acronym. An apt example for that is the World Health Organization with their who.int domain handle.
Tell people what your brand is all about 
As said a while ago, domains and brands work similar to store signs. Both of them showcase what your website is like even before somebody visits it. This pro is especially handy for smaller brands that need recognition.
To this end, Forbes recommends making your domain intuitive, like "confectionaryalley.com" or "bikersheaven.com". This makes it likely for consumers to discover your brand whenever they search for products or services which you provide. 
Use brandable names
This piece of advice comes from Website Setup's list of tips when making a domain. In it, they emphasized using unique, brandable names over generic ones.
Let's say you're going to start a game development company. You'd be hard-pressed to stand out from other game studios with a bland name like "fungames.com". You'd have more luck with distinct domains like "vista.com" or "framergaming.com".
Think long-term
You should also consider your long term business plan when making a domain name. Picking a name which identifies your specific product or services will garner attention from people interested in your niche. This quickly becomes a hazard if you add more products or services though. 
Branching out means you'll have to change your domain name to fit your new brand. This will quickly incur unnecessary costs, and worse, you'll have to build your brand from the ground up again! Think carefully before finalizing your domain title.
Check if your chosen domain is available
Website Setup also urged those starting a website to check if their preferred domain is still available. 
Domain Name Stat found that currently, over 500 million domain names have already been registered. There's a high chance that the name you have your eyes on could already be taken. Even if there's no branded domain named exactly like yours, you'd do well to avoid trademark. 
Use tools like the trademark database of the United States Patent and Trademark Office. These will let you check if the domain you've made hasn't been claimed yet. Doing so will ensure you avoid potential lawsuits and having to relinquish the domain that's become synonymous with your brand.
Have an domain that matches your brand
This is the last, and possibly most vital law in making domains. Business.com says that ideally, you should have a domain named exactly after the brand you're promoting. 
People naturally think that domains are the same as brand names. If they search for your brand and find no website or another website, it's going to reflect poorly on you. This is a surefire way to degrade your first impression.
Whenever possible, place this rule above all else to make your brand consistent. In the case you can't manage though, you could always consider changing to a different brand name. You can also just add some words to your SLD to compensate until you can purchase your exact match domain. If your brand name is "Carl" but "carl.com" is unavailable, opt for something along the lines of "onlycarl.com".
What should you avoid doing when coming up with a Domain name?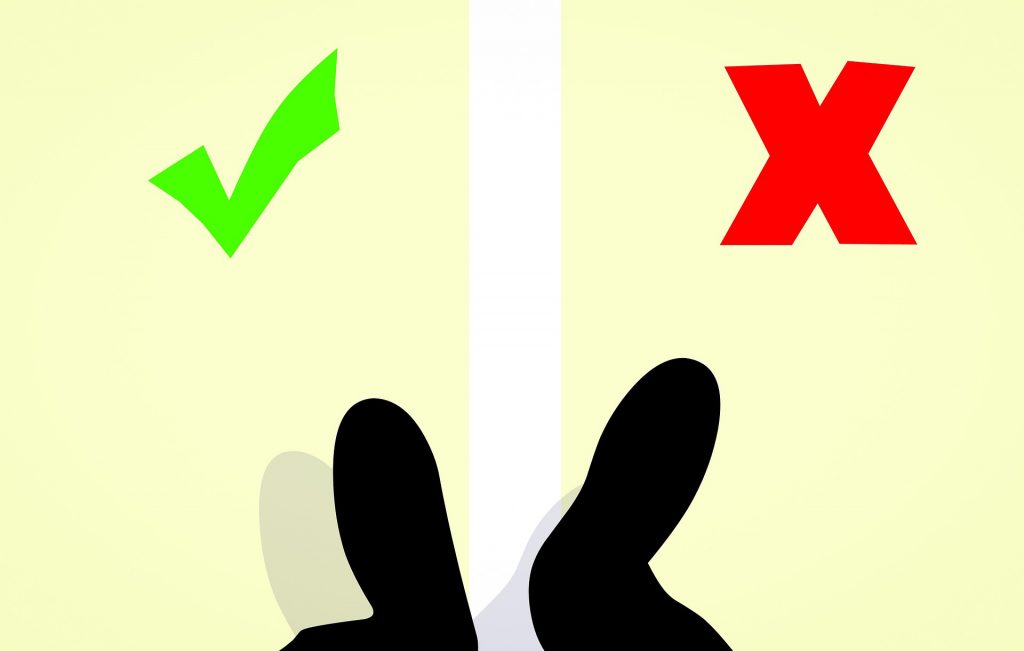 Photo Credit by Pixabay
Avoid dashes, numbers and abbreviations
Entrepreneur Magazine stressed the importance of not using dashes, abbreviations or numbers in your domain name. Going by the principle of domain readability, each of these elements makes it tedious for people to remember your brand. They also typically cause typos when anyone attempts to type them in a search engine. Avoiding these for the most part will give your customers an easier time finding you online.
Don't use tough to spell words
Another post by Forbes about domain names implores website starters to keep away from words that're difficult to spell. 
First there are complex words that many people aren't familiar with such as "aficionado". Homonyms – words that sound the same but are spelled differently –  are another thing to steer clear of. Examples of those are "capital" and "capitol". Lastly, there are also words like "center" and "centre" that are spelled differently across different languages. 
Using any of those words invites the chance of confusing anybody who hears your domain. If they have to spend time clarifying your brand's spelling, then they might have a lower opinion of it.
Avoid obscene-sounding URLs
A rarer but still relevant pitfall is having a name that sounds different when spoken out loud. 
The TV show 30 rock illustrated this point clearly with the domain name "jennas-side.com". It seems innocuous until you realize that it sounds like "genocide" when read rapidly. 
Needless to say, having your brand associated with any kind of indecency is a very bad idea. Read your domain out loud to avoid this problem.
Don't use misspelled domains
AllBusiness explained this in their own list of domain mistakes. Intentionally using misspelled words, like "moviefone.com" is liable to carry the same drawbacks of using hard to spell words. 
You can still use your oddly-spelled brand if you think it'll work out. However, you'll also need to get the corresponding correctly spelled domain to accommodate everyone who isn't familiar with your brand. In MovieFone's case, they also acquired "moviephone.com". Doing that's more expensive though, so you're still better off going with a properly-spelled domain.
Don't put off getting a domain for later
AllBusiness also warned against this. Most people focus on domains only after they've fleshed out their branding strategy. What they don't consider is that more and more domains are being registered as time goes on. Your perfect domain might be snagged from you if you don't act fast, leaving you with a subpar one. It's highly advised to secure a domain as soon as you've settled on your brand name.
Avoid unnecessary lengtheners
SeeMe Media also has their own checklist to follow when naming domains. In it, they caution domain buyers to not use certain words if they can help it. Among those on the blacklist are "a", "an", "the", "and", "but", "or", and "with". These give unneeded length to your domain and make your website tougher to reach, much like incorrectly-spelled words do.
Don't turn down the possibility of buying a 2nd hand domain
Finally, there's the conundrum of what to do if your chosen domain name is already claimed. You could always opt for a domain that differs from your brand. But what if you can't afford to do that? For this, Winning WP recommends not giving up just yet. 
It's possible to check if the current owner is selling the domain. You can do this by contacting them and inquiring on the domain's availability. Parked domains are another option. These are domains that feature ads in place of a website. They're usually for sale and have the owner's contact information in them. You could also look for used domains on sites like Sedo and SnapNames.
You should also research your chosen domain's past with tools like the Wayback Machine and who.is. A seedy history will tear down your brand's reputation if you neglect to check it.
Which domain extension should you use?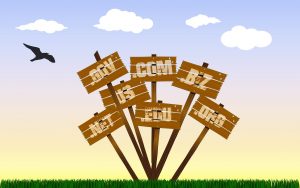 Photo Credit by Pixabay
Your TLD or domain extension is just as important as the rest of your domain. Craft the Perfect Domain
To decide which TLD is best for your site, you should be familiar with the most popular domain extensions. Disabled World counted some TLDs which have seen widespread use:
.com
Among the 3 most used TLDs alongside .org and .net. Commercial and business websites commonly use this extension with their domain. .com is for general use though, so anyone can register a .com domain.
.org
Short for "organization". Non profit organizations and industry groups typically use this TLD.
.net
This is the unique TLD reserved for internet service providers to use. Other companies can still have a .net domain as well though.
ccTLDs
ccTLDs or Country Code Top Level Domains can only be registered by a company residing within a specified country. .us is for America, .ca is for Canada, and .uk stands for the United Kingdom. There are also CCTLDs for most other nations.
.edu
This domain extension was created for universities to use. Any registered college or post secondary schools must use this TLD, which can't be used by any other organizations.
.gov
Similar to .edu in that access to this domain extension is not allowed for just any organization to register. Only United States government agencies can use this TLD.
Niche domain extensions
In addition to these, there are also other newer niche domain extensions. A few examples include .space, .tech and .club. 
While they are obscure compared to the previous TLDs, The Next Web revealed that they do come with their own benefits. Since the demand for niche domain extensions is lower relative to more popular TLDs, they cost way cheaper. They also have more availability since companies aren't exactly tripping over themselves to get niche TLDs. This makes niche TLDs ideal for smaller businesses who want a website but can't afford premium domains.
How to decide on a TLD
When all's said and done, one question remains. Which of these domain extensions should you put at the end of your main domain?
Well, that's up to you. The important thing is to pick a TLD that accurately reflects the nature of the brand you're promoting. 
Some examples include: 
A larger business opting for the .com extension, which is pricey but makes their website more accessible. 

A small startup using niche domain extensions to add some flair to their domain like "ambrosiamilk.dairy".

A local branch of a multinational corporation could take a CCTLD to foster better relations with the country they're in. 

An internet provider using a .net handle would help to solidify their brand's image. 

A company can buy multiple TLDs to prevent their brand from being used by another company under a different TLD.  
What factors must you consider when choosing a Domain Registrar?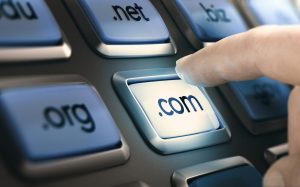 Photo Credit by NDLA
So now, let's say you've done it. You've learned all there is to know when it comes to domain naming. You've racked your brain for weeks on end, finally coming up with the best domain for your brand. Where do you go from here?
The last step would be the actual purchase of a domain. You can do this from a domain registrar. Craft the Perfect Domain
Themeisle has a good explanation about domain registrars. The ICANN or "Internet Corporation for Assigned Names" is the main body that manages domain names. Domain registrars are accredited by ICANN to sell available domains to anyone looking to start a website. After someone buys  a domain from a domain registrar, they handle its registration with ICANN. Registrars also offer renewal services since domain leases aren't permanent. Think of domain registrars as middlemen you contract to update your ICANN info for you.
Just like with naming domains, deciding on a domain registrar isn't an instant process. It needs careful consideration, as well as an understanding of the pros and cons that different registrars possess.
Domain Selection
Right off the bat, you have to see if a prospective domain registrar actually has the domain you want. A Cloudflare article on domain registrars says that different registrars offer different domain extensions. Only go with a registrar which boasts a wide selection that has the actual TLD you want. They should also have a search tool that lets customers see the availability of the TLD they want.
Add-ons
Cloudflare also indicates that a lot of registrars offer service bundles in addition to domain selling. They typically include domain privacy to protect your personal info from being hacked and your brand being stolen. Some also provide other things such as website or business email hosting, as well as web development. It's worth thinking about whether you want to get all your website needs from one company or not. 
Pricing
Cloudflare also urged domain buyers to double check a registrar's pricing. Some domain registrars could offer a huge discount for your initial purchase but have overpriced renewal fees. They might also have hidden fees bundled together which you might gloss over. Be sure to read their product description thoroughly. Not only will you see how much their services cost, but you'll also be ridding yourself of any unwanted bills.
Registration Policy
Next is the registration period. ICANN explains that the norm for new businesses is buying the minimum one year registration before having to renew it. However, it is possible to buy up to ten years' worth of registration. Different registrars also impose different registration periods. Some registrars require 2 or more years before you can cut things off. Consider how long you want your domain ownership to last before you proceed.
Expiration Policy
Closely related to the registration period is a registrar's expiration policy. As mentioned before, domain ownership isn't permanent and has to be paid for yearly. Cloudflare adds that some registrars offer auto renewal features that makes it simple for their clients. Moreso, the best registrars even offer 'grace periods'. These prevent owners from losing their domain for some time after they fail to pay their fee. Review a domain registrar's expiration policies to see if they have those traits. Both could prove invaluable for guarding your online brand.
Domain Transfer Service
One more thing a buyer needs to be aware of is a registrar's domain transfer policy. Domain transferring is moving a domain's management from one registrar to another. This is commonly done when one isn't content with their current domain registrar. This process should be user-friendly, but be wary of bad registrars. They could attempt to make transferral harder by tacking on additional fees.
And with all that said, you're fully equipped to begin your domain naming journey. As long as you keep all these directions in mind, a memorable branded domain will only be a step away! Craft the Perfect Domain
References: 

Craft the Perfect Domain